Tuesday, June 6th, 2006
---
8:17 am
- 借路遁
Announcement:
Today I have completed my very first act of escapology.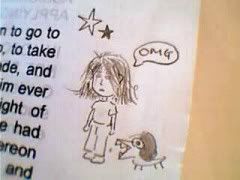 pointless picture #1
Monday, June 5th, 2006
---
9:57 am
The fact that I don't say anything doesn't mean I have no idea what is going on. Don't ever think you can run past me without me noticing. It is for the general efficiency in life that I decide to turn away and keep quiet.

I cannot decide whether you are really that stupid and think that I don't know, or you are just pretending I don't know since I am doing so. Either way, I am granting you concessions that might easily be considered as over-indulgence in another context. Don't push it.
Saturday, June 3rd, 2006
---
10:42 am
- 厭 (港式書面語。Cantonese speakers only)
一整個早上被電話鈴聲纏繞。煩死了。

都不是我想的人﹐都不是我感興趣的事﹐你們統統給我死開好不好﹖周末又如何﹖我就是喜歡一個人在家看我的紅樓﹐聽我的歌劇。你理得我。

你大可以說我目中無人。我確實沒有閒情逸致掛個笑臉﹐跟你們談垃圾電影﹐跟你們研究什麼新式電話有什麼新功能的。你悶死我﹐我悶死你﹐何苦呢。

你們那種鍥而不捨﹐屢敗屢戰的精神﹐我是甘拜下風的。要是把如此凌雲志氣用在那許保家衛國的大事上去﹐前途可謂無可限量啊。小事如奪命連環call﹐也就無需這樣痴纏了吧﹖電話掛了三分鐘無人接﹐加場再打﹐再打﹐再打... 然後還要留言問「喂你沒有空麼」。大佬﹐十二個 missed calls 每個三分鐘一共三十六分鐘沒有接你電話你說我有沒有空啊﹖胸就有。

這是唯一一天我可以不問世事的﹐就讓我葬葬花﹐海棠春睡一下。人老了﹐喜歡清靜。

你們別煩我好嗎﹖

今天我想一個人過。
Friday, June 2nd, 2006
---
11:54 pm
- 你就是爱听这些无关痛癢的
昨夜司棋为了一碗炖蛋大闹大观园厨房,引得婆子也心癢难熬的。结果呢,今天还是胡乱弄了一碗。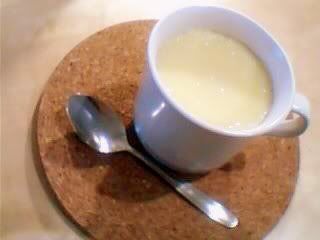 在这段非人时期中,这可是婆子所尝过最最最好吃的了。

所以说,饥民绝对不宜读《红楼梦》。各式美食佳肴,是够把人折腾的。



(

不相信?请按这里。Collapse

)
Thursday, June 1st, 2006
---
6:23 am
- My dream girl
真是不可思议,我们那么熟悉,怎么可能还没有相遇。告诉我,你最想念什么?

This is incredible. We know each other so well, how is it possible that we still haven't met.
Tell me, what do you miss the most?

《夜奔》
Fleeting by Night



(

这是最幸福的,也是最不幸的。Collapse

)



(Sorry. I am unable to translate the tag without sounding like Charles Dickens. I give up. Hee.)
Wednesday, May 31st, 2006
---
8:17 pm
- #科举特集#﹕落第举人心
落纸如飞
花招百出
流年不利
水尽山穷

欲罢不能
哭笑不得
无法可施
泪盘如露
6:37 am
- #EXAM SPECIAL#: Rite of passage
Monday, May 29th, 2006
---
7:55 pm
- #Exam Special#: I deserve a reward because I have been heroic today! :D
Sunday, May 28th, 2006
---
2:20 am
- Even safer than Chinese: Er war in völliger Kleidung, gestiefelt.
Es kann sie jeder machen und sollte denn in der weiten Welt kein Mädchen sein, das die Wünsche Ihres Herzens erfüllte? Gewinnen Sie's über sich, suchen Sie darnach, und ich schwöre Ihnen, Sie werden sie finden; denn schon lange ängstigt mich, für Sie und uns, die Einschränkung, in die Sie sich diese Zeit her selbst gebannt haben. Gewinnen Sie über sich, eine Reise wird Sie, muß Sie zerstreuen! Suchen Sie, finden Sie einen werten Gegenstand Ihrer Liebe, und kehren Sie zurück, und lassen Sie uns zusammen die Seligkeit einer wahren Freundschaft genießen.

Ich war ruhig, da ich anfing, nun, nun weine ich wie ein Kind, da alles das so lebhaft um mich wird.

Du fragst, ob du mir meine Bücher schicken sollst? - lieber, ich bitte dich um Gottes willen, laß mir sie vom Halse! Ich will nicht mehr geleitet, ermuntert, angefeuert sein, braust dieses Herz doch genug aus sich selbst; ich brauche Wiegengesang, und den habe ich in seiner Fülle gefunden in meinem Homer. Wie oft lull' ich mein empörtes Blut zur Ruhe, denn so ungleich, so unstet hast du nichts gesehn als dieses Herz. Lieber! Brauch' ich dir das zu sagen, der du so oft die Last getragen hast, mich vom Kummer zur Ausschweifung und von süßer Melancholie zur verderblichen Leidenschaft übergehen zu sehn? Auch halte ich mein Herzchen wie ein krankes Kind; jeder Wille wird ihm gestattet. Sage das nicht weiter; es gibt Leute, die mir es verübeln würden.

current mood: Haben Sie nichts zu lesen? :D
Saturday, May 27th, 2006
---
1:38 am
《虚花悟》

将那三春看破,桃红柳绿待如何?
把这韶华打灭,觅那清淡天和。
说什麽,天上夭桃盛,云中杏蕊多。
到头来,谁把秋捱过?
则看那,白杨村里人呜咽,青枫林下鬼吟哦。
更兼着,连天衰草遮坟墓。
这的是,昨贫今富人劳碌,春荣秋谢花折磨。
似这般,生关死劫谁能躲?
闻说道,西方宝树唤婆娑,上结着长生果。



(

繁。Collapse

)



.

Enlightenment from illusory flowers

Looking through the years, what is so good about the prosperity of seasons?
Be oblivious to eminence, and look for peace and serenity instead.
People say,
Great are those up there among the clouds.
At the end,
Who is the one that comes through?
Looking at -
People sobbing in the village; ghosts grumbling in the forest.
Moreover,
Weeds among the graves are long enough to reach the sky.
This is just -
People slaving away for momentary wealth; flowers withering away through changing seasons.
As it goes,
Who can avoid the feebleness of life?
I hear that,
The fruits of immortality are abundant on that verdant sacred tree in the west.
Friday, May 26th, 2006
---
9:17 pm
- I only have time for random facts
Random fact 1:
New record. I have survived 52 hours without phone credits. Simply because I cannot be bothered to go out of the house to get them. I am not dead. Nobody missed me. So it is all good.

Random fact 2:
Has Red Silks got a new chef? Their food has gotten noticeably better.

Random fact 3:
Going out with pretty gurls is nice. They somehow managed to remain pretty even after ten hours of hard work in evil state library, when I could feel my features slowly merge together to form a giant X.

Random fact 4:
I FUCKING HATE STATE LIBRARY. But they do have the English translations of both Romance of the Three Kingdoms and Dreams of Red Chamber. I allow myself to read one chapter each for 5 lectures that I have gone through. I am still trying to figure out which maids (among the hundreds and thousands) are Patience and Faithful as translated in the English text. I am guessing they are 平儿 and 鸳鸯. Funny approach.

Random fact 5:
When is this going to end?

UPDATED
Random fact 6:
EVERYTHING HAPPENS WHEN I AM AWAY. It is the SECOND FUCKING TIME that this comes to HK during the 4 years that I ain't there. Has it been there even ONCE during the TWENTY FUCKING YEARS that i WAS there? Even Beckett comes when I am away. Everything does. Like what the fuck. *go cry in bed*
Wednesday, May 24th, 2006
---
6:23 am
- 就沾半点光
Tuesday, May 23rd, 2006
---
10:12 pm
- 啋!
I never knew this word could be typed.

MSN stole my emails. It told me they were sent but in fact they weren't. Right now there is a Lost Mails Lalaland where all my unsent love confessions are singing and dancing amongst rainbows and blossoms and bunny rabbits. :(



(

That's why nobody loves me.Collapse

)
Monday, May 22nd, 2006
---
11:02 pm
- 嘻,这个好玩
「咳,眼看着一只洁白美丽的稚羊让那满面横肉的屠夫擎着利刀向着她刀刀见血的蹂躏谋杀 ─ 旁边站着不少的看客,那羊主人也许在内,不但不动怜惜,反而称赞屠夫的手段,好像他们都挂着馋涎想分尝美味的羊羔哪!」
10:00 am
- 蜡炬成灰
And so I am here to keep myself awake during class again. My eyes can bleed. Ahh. (That was a lifeless yet contrived cry of agony.)

If I work hard, if I work really hard, if I work mind-blowingly hard, I will get the best fucking birthday pressie evaaaar. Well it actually has nothing to do with me working hard or not. But it's nice to have something to look forward to.

And it is getting cold. I feel like knitting. If I get this done (and that, and that, and the others), I will have time to make ALL THOSE HAPPY THINGS AND MAKE THE WORLD A FUCKING HAPPY PLACE. Or I could sew something. Can you believe I have not touched a needle for FOUR FUCKING MONTHS? I have loads of extra love to spare. WHO WANTS ANYTHING? :D

(More requests for beanies will NOT be accepted. Beanies are SO last year.)

In addition, I am abstaining from proper food until after the exam. Simply because unreasonable abstention is fun.

Hang on! I have goals! *GASP* Something is very, very wrong today.

Hm. Go away I don't like you.

.

Update:

Sneaked away with W to the backstage piano during break. He gave me a very brief introduction of jazz piano on the spot. When we finally tiptoed our way back through layer after layer of curtains, we were greeted by a WHOLE LECTURE-HALL-FUL of applause. Scandalous.

W is very funny. Especially when, amidst an English conversation, he suddenly used 半咸不谈的广东话跟我说,Eeeee,衰鬼,识弹琴都唔话俾人听!

M loves me. He lost my assignment. But he loves me. I forgive him therefore.

If sleepiness was edible I would have ended world starvation by now.
Saturday, May 20th, 2006
---
4:20 am
- I AM GLAD SHE DIED
FUCK. I SWEAR I HAVE NOT SEEN THIS ABOMINATION OF A MTV BEFORE I MADE MY LAST ENTRY. I ASSURE YOU THEY ARE ABSOLUTELY UNRELATED. I WOULD SWEAR BY MY LIFE IF IT MEANS ANYTHING.



Alas! All the unrecoverable dead brain cells!

NIE, WHY DO YOU HAVE TO CONTAMINATE MY MENTALITY?
Wednesday, May 17th, 2006
---
10:24 pm
- 嗔
Saturday, May 13th, 2006
---
2:32 pm
- 不成章
Friday, May 12th, 2006
---
3:58 am
- 柳梦梅的美梦里
You have to understand, I absolutely loathe posting lyrics pointlessly, but...
你要明白,我最最最讨厌人家乱贴歌词。只是...



(

I fucking love this song. 我顶他妈的爱这歌。Collapse

)



I have it on repeat for dunno how long already.
我一直停不了地重覆放着它。

Thanks
subject230385 for the song.
谢谢颜振雄小朋友给我找来这歌。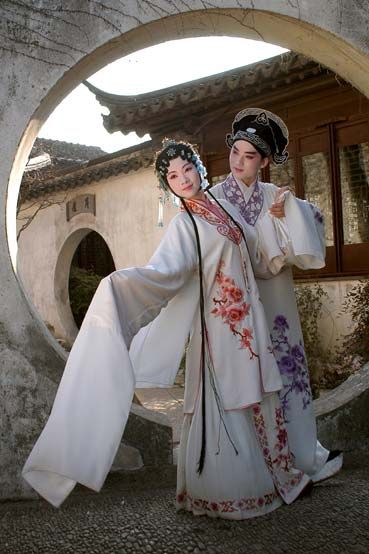 (词句精撰,比拟新颖,同样叫人惊喜的现代曲,我只能想到多年前莫文蔚的《忽然东风》。
The only other contemporary pop song I can think of, with equal wits and stylistic lyrics, would be Karen Mok's "忽然东风" a few years back.)

同场加演:

Nie: Sheep, if i dun graduate. It's ALL YOUR fault. Coz I must be somewhere learning Kun opera.
Sheep: Oh Nie, you rock. If *I* don't graduate, I would probably be somewhere READING Kun opera.
Thursday, May 11th, 2006
---
5:46 am
- 是无题,还是无谓?